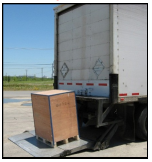 Do I need a Lift Gate?
A lift gate is required for any delivery location that does NOT have a loading dock or a forklift available.
Curbside Freight Services:
Lift Gate Lowers to the Ground Driver Does NOT Uncrate or Take Inside.
In the event that a Lift Gate is required and not checked at the time of purchase, your Tool Box order will be returned to your local freight company's warehouse where it will be re-scheduled for delivery the following day.
Any extra shipping costs accrued resulting from a second attempt delivery due to the absence of a required lift gate will be solely the customer's responsibility to pay for.
Content
D & J Farm Supply
We are the largest Camoplast Independent dealer for Washington, Idaho, Oregon and Western Montana.