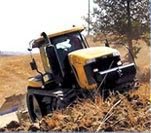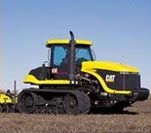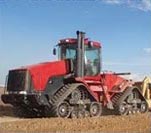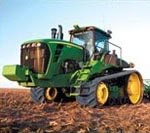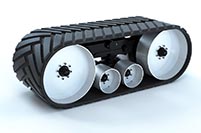 Camoplast long-lasting tracks (manufactured with exclusive ExaCure™ ply and cable placement) are the preferred choice for farmers and OEMs around the world – providing the best durability, reliability and warranty for agriculture. We offer both Camoplast original equipment and aftermarket tracks for Agco Challenger, Caterpillar Challenger and John Deere, as well as aftermarket tracks for Case. Original equipment drive, idler and midrollers for Caterpillar Challenger, John Deere and Agco MT Series are also available.
Camoplast Durabuilt Track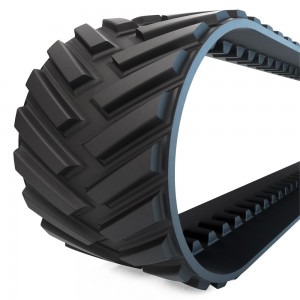 Durabuilt tracks are the most durable tracks you can buy. They are built to exacting standards using only the sturdiest rubber and steel. This combination of precision manufacturing and robust construction places Durabuilt tracks above all others. These tracks are regarded by many to be the best in the world.
Camoplast Durabilt 6500
As Camoplast's heaviest-duty track, the 6500 takes the impressive durability of the 5500 to new heights with improved track carcass life, a reduced chance of torn tracks and a lower overall cost of operation (in situations where tread wear is not the primary life limiter). This track features TrackShield™ technology, which provides more resistance to punctures (45% more than the 5500) along with the subsequent damage to the main cables. In addition, the 6500's Duradrive internal fabric reinforcement design reduces chunking and tearing – adding at least an extra season of work – and doubles your load-carrying capacity over standard tracks.
Camoplast Durabuilt 5500
This heavyduty track features an incredible service life. On average, Durabuilt 5500 tracks contain 30% more rubber and 20% more steel than Durabuilt 3500 tracks. Tread bars are built higher and wider for longer life. These tracks are perfect for extreme applications and super-tough conditions, including road travel, steep side slopes, hard round and harsh soils.
Camoplast Durabuilt 4500
The 4500 is a premium Camoplast track building on the features of the 3500 series track. It provides excellent traction in most farming applications, and its tread height and shape is ideal for improved ride, mud cleanout and tread wear. Featuring TrackShield™ technology, the 4500 provides a 25% improvement in wear resistance over the 3500 series and reduces the chances of puncture damage reaching the main cables. The 4500 series also includes improvements to lug design, resulting in reduced operation costs in the most challenging applications.
Camoplast Durabuilt 3500
Built to last, the Durabuilt 3500 features incredible flotation, traction and self-cleaning. These tracks provide a smooth ride in most applications and field conditions.
Camoplast Durabuilt 2500
The most affordable Durabuilt track, built especially for machines with higher hours or lower usage. Made with economy in mind, these tracks provide solid flotation, good traction and a long service life in several common field conditions.