The ROLTEC™ Side Locking Tarp is electric ready with welded, reinforced ends and 1" rolled air dam. Get protection from the elements at a great low price.
Benefits:
Tarp Fabric:
California Residents: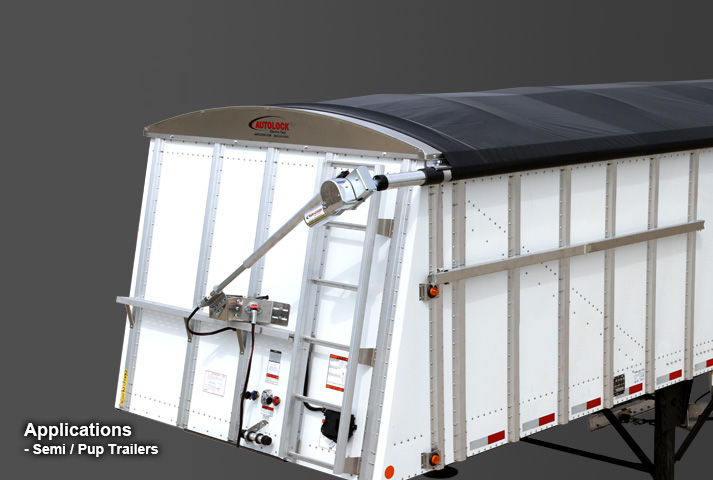 ROLTEC® Side Locking Tarp - The Most Affordable Roll Tarp available to protect your commodities
The ROLTEC® Side Locking Tarp provides you with the most protection from the elements at the lowest prices. This affordable roll tarp system provides the industry with a much needed high quality side locking roll tarp system. Agri-Cover, Inc. roll tarps are hand-made in the USA to ensure the highest quality and tightest fit available, we use galvanized hardware and powder coated parts to ensure years of service. ROLTEC® is a latch plate locking tarp system with 2" steel roll tube and U-joint hand crank. Our roll tarps offer great value with lasting quality.
ROLTEC® Side Locking Tarp - The Most Affordable Roll Tarp available
You can easily open and close this roll tarp system with a conveniently located crank handle, or you can upgrade it to an electric system by using our ROLTEC® Electric Tarp Conversion Kit. This kit works on 2" roll tubes to convert to an electric tarp system on a trailer up to 53 feet. We cover farm trucks, semi grain trailers, pup trailers, grain carts, and grain wagons, the ROLTEC® Side Locking Tarp protects your commodity every step of the way.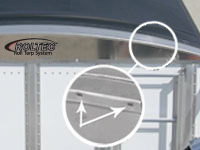 Custom End Caps
Low profile wind deflector remains hand and tarp friendly. Crimped standing seam is self-sealing, flexible with no welds to break. Integrated weather sealing rib.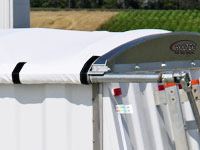 Tarp Construction
Welded 12" reinforced ends. Webbing reinforcements for added strength. Premium commercial grade, UV resistant 18 and 22 oz. vinyl fabric remains flexible at -40°.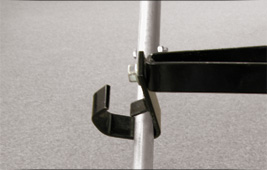 Pinless retainer
Easy in, easy out system saves time.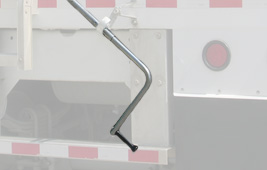 Adjustable
Crank Handle
Our crank handle is model specific and adjusts to height of sidewalls.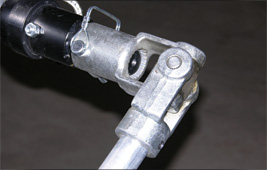 Zinc Plated
U-Joint
Our heavy duty U-Joint has 21 splines for fine tuning tarp tension.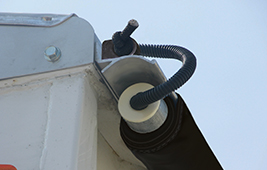 Front Bungee
Return System
Assists the operator with pulling action for easier operation when closing the tarp. Tarp friendly, bungee attachment bracket.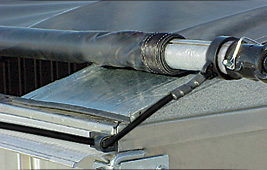 Optional Rear
Return System
Our heavy duty bungee cord assists the operator when opening and closing. It provides a pulling action at the rear of the tarp that allows for an easier operation.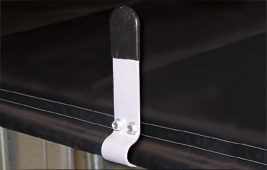 Standard Fixed
Tarp Stops
Our standard fixed tarp stops are made from steel and secure the tarp to the trailer.
*Optional Quick Release Tarp Brackets.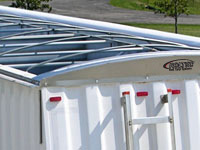 Heavy-Duty
Tubular Bows
Our quick release galvanized bows are easy to install and height adjustable for better tarp support.

*Stainless steel upgrade is available.
*Bows optional for semi trailers.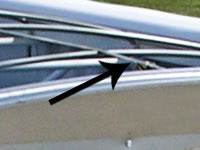 1" Ridge Strap
Supports tarp between the bows.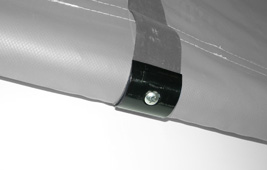 Tarp Attachment
We attach our tarp to the steel roll tube by sliding the tube in a tarp pocket. The tarp is attached to the tube with a series of clips and screws fastened to the tube.